SANDRA HULL

In the Lamelight

Born in: Arizona

Got a: Condo

Made of: Bricks (gotcha!)

Education: B.A. and M.A. in French, specialized in medieval and 17th-century literature

Currently using said degrees: Don't be silly

Occupation: Computer technician/trainer. I did use my French for several years translating technical and legal documents for two French companies, so there.

Why the switch? Let's just say that computers may be just as incomprehensible and exasperating as the French, but they smell better.

Other Occupations: NRARS Web Dominatrix; WETA Pledge Drive Volunteer Dominatrix; Minister, Universal Life Church. (Same as John Bobbitt, although I was ordained before he was. Itís guys like him what give mail-order religions a bad name.)

Useless skills: Tarot card and palm reading, creating fashion accessories from sliced-up Loser shirts. See also: Education

Noteworthy relatives: Cordell Hull, Secretary of State under FDR; another Hull from Tennessee immortalized in a '30s Life Magazine photo with rifle in hand defending his still against the revenooers.

Sneaking suspicion: That I am descended from the latter, not the former.

THE ROAD TO F2:

1967:
at age 6 produced a line of "Hullmark" greeting cards rife with lame jokes and bad poetry

1979:
inducted into Beta Upsilon Mu Sigma, the silliest organization on the Heidelberg College campus. Yes, that's right: before I was a Loser I was a BUM.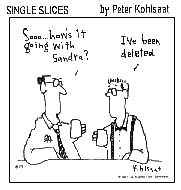 1980:
sold whoopie cushions and fake dog poop at Spencer's Gifts; gained experience with ears, in this case piercing them.
1988-91:
regular Neologism contestant, one win; first experience hearing "Hey, didn't I see your name in that contest in the Post?"
1992:
Bell Atlantic assigns me telephone number with last 4 digits that spell out "TSAR"
1996:
coworker introduces me to the Style Invitational, remarking "it seems like your brand of humor". I am hooked. Litigation pending.